We are delighted to announce that Kieran Mulcahy Munster Sole Practitioner/Sole Principal of the Year of the Year at the Irish Law Awards 2018.
We were delighted to have been Shortlisted for 3 further Awards at the Irish Law Awards.
Kieran Mulcahy was shortlisted as a Finalist for the Munster Solicitor of the Year Award.
Kieran Mulcahy Solicitors were shortlisted for the Munster Law Firm of the Year Award and for the Excellence in Client Services in Munster Award.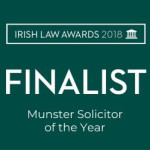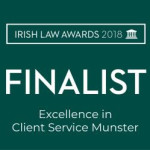 Thank you to everyone for your nominations.